Introductions with Postman
This is the API Knowledge Base for GivEnergy. For those wanting to directly interface with the API, please see API List
A provided template is given below for those that use Postman (https://www.postman.com/) - an API development platform. The template is for those that want to configure and extract data from the GivEnergy platform.

To get started, the environment should be setup to correctly label the input that the user wants to extract data from. To do so, click the eye icon to bring up the environment tab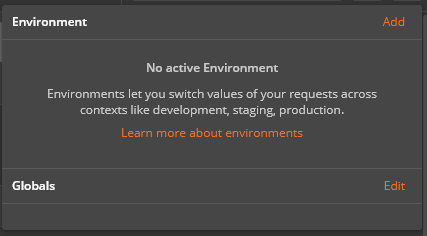 Click the Add button on the top right

Name your environment to anything you like. For this example, naming it 'development' would be appropriate. Click on Bulk Edit and paste the environment template below
BaseURL

:https:/

/www.givenergy.cloud/GivManage/api/
plantId:
Date:2020-10-01
Month:2020-09
Year:2020
serialNum:
username:
password:
Click Update, your environment should now be configured (Please note the image shows http. Our site has updated to https and our http protocol will not be working)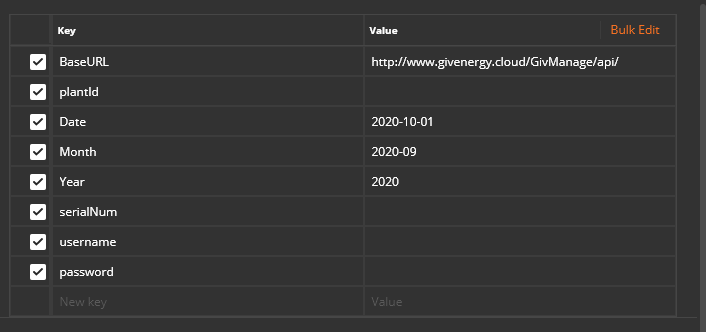 Enter in the appropriate values. plantId will be the number for the plant, and serialNum is the Serial Number of the inverter you want to extract data from. Finally, enter in your user credentials to login to the API. Your user account will determine what kind of data you can extract.
You are now ready to extract data from GivEnergy.